If you visit
gathered-sown.com
, you will find my newest addition....
my quick sale section
! This is where I will be listing items that are samples, one of a kinds, or styles/fabrics that I am phasing out.
The best news???
The micro shop will be ever changing.
Everytime one thing sells, I will add another. There will always be 5 items in that shop!
Each item in the Quick Sale section will be marked down,
so not only do you get a really fun bag, but you get it for less than anyone else will!
Win-win!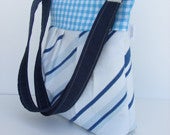 Every once in a while, (because I love my customers SO MUCH!) as a bonus thank you, I will be adding a current,
straight from my etsy shop
item! This will be random and unannounced, so you'll have to check the
Quick Sale
shop often ;)
Questions? Let me know. If not, have fun, and I'd LOVE it if you told your friends,wink!
Thanks!
Angie